The Port of Hakata is arousing expectations as the marine gateway of East Asia. With this potential as background, our Port of Hakata Office plays the role of a control center for international cargo handling. It assists customers in various matters concerning export and import, through close cooperation between the divisions of customs clearance and ship agents and warehouses with bonded warehouse sections. Further, the office has expanded its service network thanks to its authorization as an NVOCC (Non-Vessel Operating Common Carrier). This means that it has realized an international door-to-door transportation system.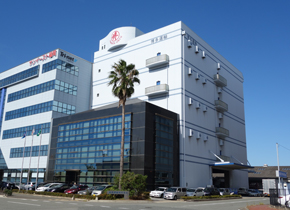 Customs clearance business
Our location is adjacent to the container yard, and near the Branch Office of the Hakata Custom. Taking advantage of this ideal location, we provide fast and accurate customs clearance.
Export and import processes are efficiently controlled by teams led by experienced registered customs specialists. Upon receiving an order from a consignor, they prepare documents referring to relevant regulations, handle formalities, and deliver freight.
Furthermore, we can handle textile and chemical products that are generally assumed to be difficult to manage. This flexible customs clearance system enables us to meet the demands of consignors.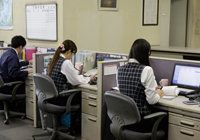 Central Pier Warehouse
This reinforced concrete five-storied warehouse boasts advanced equipment. It includes a bonded warehouse for the handling of imported and exported cargoes. It also manages a separate warehouse designed to handle non-standard (extremely heavy or long) cargoes. We correctly meet the needs of the consignor through computerized warehouse control and close cooperation with the customs clearance division.