Our Fukuoka Office operates various kinds of warehouse, including the Hakozaki East Office and the Hakozaki Pier Warehouse Office at Hakozaki Pier. We store not only general and international freight, but also dangerous freight and special freight that needs be kept at a constant temperature. The office also coordinates loading and unloading services for refrigerator ships.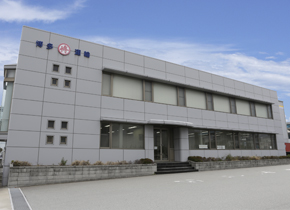 Hakozaki East Office
The station is located near the International Container Yard, and has an area of about 8,250 m2 that is used effectively for loading and unloading trucks.
A key feature of the station is its lineup of warehouses. In addition to a warehouse for regular freight, the station has a constant-temperature (15 to 25℃) warehouse, a warehouse for dangerous substances that conforms to the Fire Services Law, and a constant-temperature warehouse for dangerous substances. This versatility, as well as a secure storage system, has earned the trust of many consignors.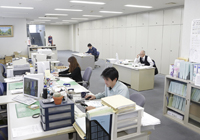 Warehouses for dangerous substances
Among the attractive assets of HAKATA UNYU are its warehouses for dangerous substances, particularly those that are designed for temperature control.
The Hakozaki East Office operates a warehouse area for dangerous substances (three buildings, about 495 m2) and a constant-temperature warehouse area for dangerous substances (two buildings, about 314 m2), which conform to the Fire Services Law. Staff are qualified to handle dangerous substances, and perform their tasks with the focus on safety and accuracy.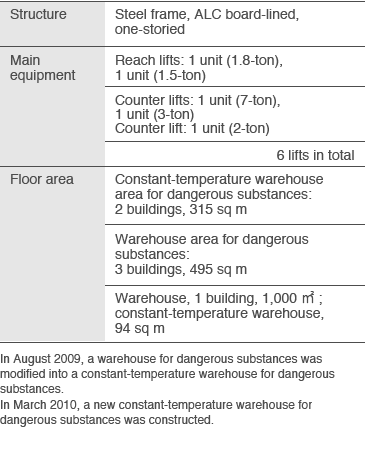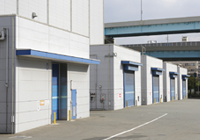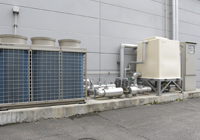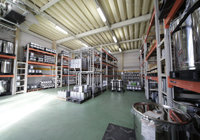 Hakozaki Pier Warehouse Office
This warehouse is located at the center of Hakozaki Pier, and enjoys good access. This is a sophisticated five-storied reinforced concrete warehouse, and the area of each floor is about 680 m2. Under a systematic control, the warehouse is used for comprehensive storage.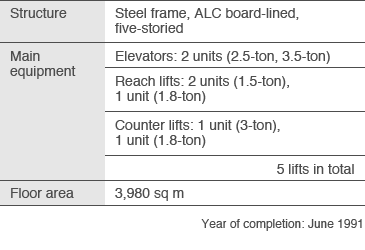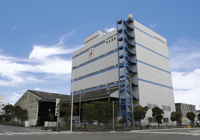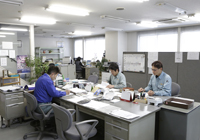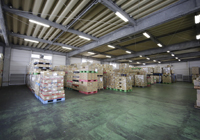 Special transportation business
Transporting dangerous and hazardous substances safely and reliably. Our special rail transportation division meets such demands.
We can transport dangerous and hazardous substances using ISO tank containers. This method is safe, and rational from the viewpoints of environmental conservation and quality control.