As the globalization of distribution has progressed, the volume of marine container cargoes has increased dramatically. To meet this situation, our Kashiihama Office serves as the base for the marine container business. The office is adjacent to the Kashii Park Port Container Terminal that serves as the gateway to the Port of Hakata. Thanks to this favorable location, it exhibits a high mobility in performing quick drayage and managing various inspections.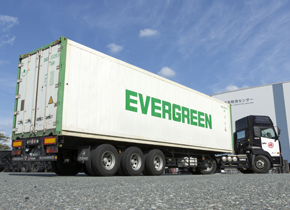 Marine container business
We conduct the drayage of dry and reefer containers safely and speedily.
We possess chassis with a generator for marine containers (MG) to offer transportation services while maintaining a specified temperature. Further, we combine the marine container business with the customs clearance business to quickly prepare for X-ray inspection and other emergency inspections at the customs house, leveraging our favorable location close to the container yard.