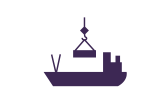 The Port of Hakata is one of Japan's major international ports linking areas in Japan to East Asia and various countries in other regions.
HAKATA UNYU is located adjacent to the main container yard of the Port of Hakata. Taking full advantage of this location, we provide comprehensive harbor transportation services. Our consistent service system enables us to provide services ranging from handling export/import containers, loading/unloading large refrigerator ships, delivery to customs clearance on shore.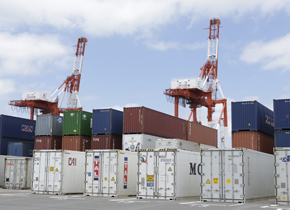 Our customs clearance services are fast, accurate, and flexible
With the ongoing globalization of economies, tasks related to customs clearance have become more and more complex, and their scope has expanded.
Among freight transported from other countries, some are not accepted in Japan for economic and health reasons Therefore, such freight is strictly regulated by relevant laws of Japan. Accordingly, customs clearance requires the acquisition of permissions and approvals based not only on routine regulations related to customs duties, but various other regulations.
Similar consideration must also be given when exporting freight. Conditions to be met must be identified and dealt with quickly to conform with regulations of Japan and other countries. To fulfill this task, a transportation company must provide fast and accurate services supported by knowledge and experience.
At HAKATA UNYU, export and import processes are controlled efficiently by teams led by experienced registered customs specialists. Upon receiving an order from a consignor, they check the tariff by referring to relevant regulations. Then, they prepare the necessary documents, go through formalities, and deliver the freight.
Our advantageous location adjacent to the container yard, allows us to expedite freight-related businesses. We can also avail ourselves of dry warehouses for the temporary storage of freight. Furthermore, we can handle textile and chemical products that are generally assumed to be difficult to manage. This versatile customs clearance system enables us to provide careful services to meet demands of a consignor.
Fast and accurate forwarding services
What is a reliable forwarder? HAKATA UNYU has worked hard to answer this question.
Our strategic forwarding business incorporates comprehensive consideration of costs, transportation quality, and lead times, etc. to meet the demands of a consignor. We provide fast and accurate services from customs clearance, storage, and delivery, loading/unloading to ship agency.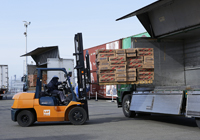 Tested loading/unloading services for international transportation
Among the services provided by our shipping transportation division, loading/unloading services for international transportation have the longest history and track record.
We transport refrigerated freight carried by refrigerator ships for foreign trade to the refrigerator designated by the consignor. We provide consistent services from agency business for arrivals of ocean-going ships, to loading/unloading a ship and operations on shore.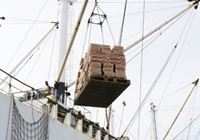 Supports Cruiser Business in the
Port of Hakata Through Freight Loading
The Port of Hakata is a major port of call for cruisers. Therefore, the port requires the loading and unloading of food items and daily necessities for passengers and the crew, goods sold in ships, supplies for ship maintenance, and the supply of various other commodities. Leveraging our advantageous location right in front of the Hakata Port International Terminal, and our know-how accumulated through our experience of refrigerator ship loading and unloading, we support businesses related to the loading of these commodities. We contribute to the function of the Port of Hakata as a "cruiser base" through the handling of freights.
Making full use of the Port of Hakata based on its advantageous location
The Port of Hakata is one of the most accessible ports in Japan. With a ramp to an urban expressway, the port provides a smooth link to road transportation. The expressway directly links Fukuoka International Airport, and facilitates the transportation of air cargoes. Besides, a JR freight terminal, located near Hakozaki Pier, provides smooth links to rail transportation. These features make the location ideal for Sea and Rail transportation.
HAKATA UNYU has developed port facilities in areas adjacent to the main piers of the Port of Hakata. As a result, a transportation system has been built that combines land, sea, and air transportation.