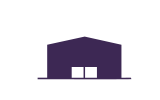 The warehouses of HAKATA UNYU are not just for storage. We use our location to offer direct access to the Port of Hakata. Our transportation system combines various modes with customs clearance to provide a multi-purpose warehousing system that can meet various needs.
We have capacities for warehouse control of general freight, quality control of constant-temperature freight and dangerous substances, and packing freight. We support the sales promotion activities of our customers through smooth and reliable distribution.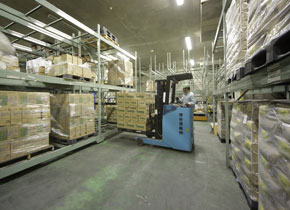 A general distribution center that meets next-generation needs
The warehousing services of HAKATA UNYU do not end with storing and protecting freight. Our aim is offer a wide range of functions that go beyond just storage. We are establishing next-generation warehouses that deliver higher added value.
This goal requires the capacity to manage a vast amount of imported freight, and the flexibility to meet distribution requirements from flexible production. To that end, we aim to develop a general distribution center that functions as a strategic logistics Control center based on real-time monitoring of the condition, flow, and value of goods.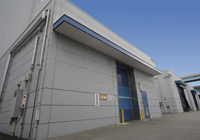 Multi-purpose warehouses meet a wide range of needs
Meeting the needs of the times with the most sophisticated hardware and software. To achieve these goals we examine the design of a warehouse from various viewpoints including location, scale, and function to develop a full lineup.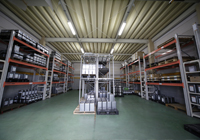 Central Pier Warehouse (Port of Hakata Office)

This warehouse is a five-storied reinforced concrete building with a total capacity of 3,960 m2. It is a sophisticated warehouse including a bonded warehouse section for handling export/import freight. An electric mobile rack is also installed on the fourth floor for efficiently storing pallet freight.

Hakozaki Pier Warehouse (Fukuoka Office)

This is a sophisticated five-storied steel frame warehouse, and the area of each floor is about 680 m2. The warehouse is located at the center of the Hakozaki Pier, and is easily accessible due to its proximity to the Fukuoka Urban Expressway.

Hakozaki East Office (Fukuoka Office)

In addition to a warehouse for regular freight, the station has a warehouse area for dangerous substances (three buildings, about 495 m2) and a constant-temperature warehouse area for dangerous substances (two buildings, about 314 m2), which conform to the Fire Services Law. The station meets a wide range of needs including the handling of dangerous substances and other special freight.